With many different models, multiple configurations, and large assortment of attachments, MultiOne is the best articulated mini loader in the market. They are made to suit every kind of task: from farming to landscaping, from property maintenance to construction. Discover the full range of MultiOne mini loaders from the light but powerful 2 Series up to the impressive 78 hp 10 Series.

Every MultiOne 4WD mini loader is equipped with articulated steering: the front and rear halves of the loader are connected by a joint, allowing the loader to maneuver in tight working spaces. Each series from the 5 Series and up is equipped with a telescopic boom.
Slaymaker has MultiOne loaders available both for purchase and for rent. Click on each Series for more information. For pricing and availability, send us a message or call 717-684-5050.
---
Equipment Attachments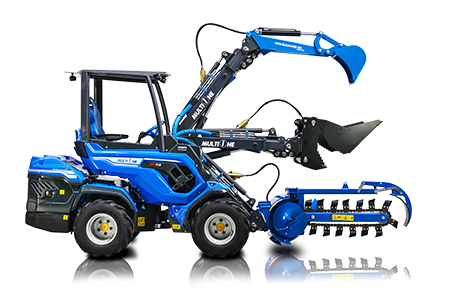 Buckets, Forks, and Much More